November 2022 in review
My monthly series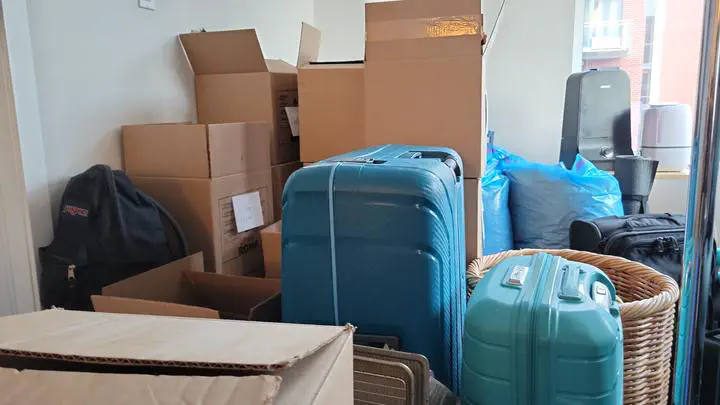 Introduction
I'm trying a Month in review series on my blog. This is the first post.
Please forgive the terseness and bullet point format.
I got inspiration from:
Intent and goals:
Sharing with my family and friends.
A kind of journaling exercise for myself.
Content ideas:
Featured image—something from my camera roll.
Grafana Labs work

Company news relevant to me or that I care about
Personal achievements and growth
Participation to events
Travel

Community and social
Personal projects
Personal development

Goals
Pole dancing
Parkour
Art

Month favorites

Social media posts
Activities
Personal stories
Things I did and liked.
Photo gallery
Favorite BeReals.
Theme of the month
The theme for the month of November 2022 is Migration.
Grafana Labs customer migration project
This is a story about helping a customer migrate from an ancient observability system to Grafana Cloud. It's the highlight of my work with our customer Wells Fargo for the past 8 months. I worked on this project as the Solutions Architect for the solution built on Grafana, Prometheus and Loki.
It's actually a pretty boring story. It went pretty smoothly. We have a few setbacks and did creative problem solving. On November 14th, after months of planning and preparting, we did the cutover in a virtual control and communication room with 20 people from both companies. I sent the commands to make the switch happen. It went really successfully, making this a significant success story, and a proof of value for Wells Fargo to expand their Grafaan Cloud usage to more observability use-cases.
Wells Fargo Senior Software Engineering Manager Nikhilesh Tekwani talked about their team's journey modernizing observability tools across the entire organization.
Watch his talk here on grafana.com:
Wells Fargo's observability transformation, powered by Grafana Enterprise and Grafana Cloud
Or here:
Here's the content outline:
00:00 Personal intro.
01:40 Subject matter intro: Our company, our team, our customers.
03:07 Looking back at where we started in Fall 2021.
05:32 We defined our strategy and started our journey. Vision, mission and observability strategy.
07:30 We defined our architecture.
12:00 Our key challenge…migration of legacy alerts. That's the diagram I made for the data migration pipeline I wrote 😄
14:30 Personal callout to Mano, the Wells Fargo engineer I partnered with, and myself 😄
16:20 Where we are now: We have come a long way while delivering on major Observability initiatives.
22:40 What is next: We turn to the next leg of the journey, Observability in a modern, integrated stack.
30:18 Final Message.

More about ObservabilityCON 2022 on the Grafana Labs blog:
ObservabilityCON 2022: A guide to new OSS projects, LGTM stack updates, and more from Grafana Labs
Moving to New Mexico for work
Just as I passed the key milestone with my big Grafana Labs customer project, I went in full packing and logistics mode in my household.
Here are a few social media posts that tell the story:
Still in the middle of my move. I'm taking a few days off work to help with packing. I'm exhausted, but powering through. I even got vaccinated for COVID-19 and influenza at the same time on Monday, and I got a big of soreness and a headache from it.

Our stuff will be moved out tomorrow. We're flying next Wednesday.

In the meantime, we have our last few pole classes, family time, friends time. It's great to have these moments to feel grounded through this.
November 24 (by Debarati)
It's @systempk 's birthday today 🎈🎂but unfortunately we are in the middle of a move and surrounded by boxes 📦📦🫠🫠😅😅. We can't wait to be DONE with moving 🥲🥲 Alex, let's get some cake later 😌🍰✨
To be continnued…
Mastodon migration
I've migrated from Twitter to Mastodon!
I'm @systempk@mastodon.online on the Fediverse.
Here is a BBC article describing the movement of people choosing to join the open-source federated social network in favour of the corporate-controlled Twitter app: Twitter users jump to Mastodon - but what is it?
My girlfriend actually created her account first, which is notable because I'm usually the one telling her about open-source alternatives! @debarati@mastodon.online.
Then someone at Grafana Labs created a server for employees, and I created an alt account there: @alexandre@grafana.social.
Here are some resources I found useful:
How I joined Mastodon
I started by joining the "main" server. It's a decentralized network, there is no main server, but mastodon.online is operated by Mastodon's creator.
I tried the official Mastodon app and Tusky for Android, but I found that the best way to use Mastodon is to use the web UI. On Firefox on my phone, I created an app icon from the website so it behaves like an app.
I created my profile with my picture, backdrop image, a description and some tags.
I looked for people to follow.

I used the local and federated public timelines and followed people that posted interesting stuff.
I used Debirdify to find people I follow on Twitter who have a Mastodon account.
I follow @FediFollows@social.growyourown.services which highlights interesting accounts to follow on Mastodon and the Fediverse.
I follow @Curator@mastodon.art, who boosts people's art on the Fediverse.

I found more people with similar interests by searching for tags, and following a few tags too.
The Explore feature is also good for finding posts and tags that are currently tracking on my server.
I started writing some posts and engaging with other people.
I wrote an #introduction post to introduce myself and let people know what I'm interested and what I might write about. I made sure I had a few posts published before that for people to see when they clicked on my profile after reading my #introduction.
Next steps with Mastodon
Moving to a new home server
After a period of introduction on mastodon.online, I intend to migrate my personal account to a smaller server with a community with interests and values similar to mine.
I'm already interested in hachyderm.io. It welcomes people who are passionate about tech industry and digital freedom. It also seems like an emotional safe space and it has clear statement for welcoming LGTBQIA+ people.
Other servers that were interesting to me:
Eventually I might need these resources to move my account to a different server:
Write a blog post
I have lots of notes here; I'd love to write a standalone blog post to share my experiences with Mastodon.
Share content on Mastodon
I can share some old blog posts, pictures and other content that I have shared elsewhere previously and that I think might interest people on Mastodon.
I can also start sharing new content that I haven't shared before, like my watercolours and drawings.
Since I will also be discovering lots of new things in Santa Fe and New Mexico, I can also post about my adventures and discoveries at my new home state.
Other things going on at Grafana Labs
One of my blog posts will be translated
An article I wrote for the Grafana Labs blog will be translated in other languages. I was told it is a successful one as in it still generates website traffic six months after its publication. I don't have details on which languages or a timeline for the translations to be published; I'll probably write future updates as I get more information.
The article: Grafana dashboards: A complete guide to all the different types you can build
Coaching two people
As part of my journey growing as a Solutions Architect, I've been coaching two colleagues in my team.
Meeting one-on-one every week.
Technical knowledge sharing, PromQL, backend architecture and configuration.
Helping find resources within Grafana, how we work, who to talk to.
GrafanaLive event in Montreal
I was at a GrafanaLive event in Montreal on November 17th (presentations and networking). It was meaningful to me or several reasons.
First time in 4 years I'm not flying to a Grafana event. It was a 20 minutes walk.
Catching up with Eldin, who hired me at Grafana in the first place and always holds a special place in my heart.
Catching up with an old colleague I worked with at iWeb.
Hearing people talk about Grafana in French.
Being there at the first ever Grafana event in Montreal, just in time before I move to New Mexico in 2 weeks.
Month favorites
Joined karaté class on open-house day where my brother practices.
Grafana customer project I worked on for 8 months had a great outcome.
We were very regular with our pole workout until our very last day in our Montreal apartment.
I tried an exotic floorwork class (a.k.a "fucking the floor" in pleasures and skanky crop top).
I gained some back and shoulders flexibility.
Friends threw a goodbye party for Debarati and I.
Birthdays (my sister and I) family dinner.
Tried Phở for the fist time with Debarati.
Dancing night (we're over 30, so until 12am) with friends at Datcha bar.
Dinner and cocktails at 9TailFox fusion corean restaurant with Max and Debarati.
Resuming watching Schitt's Creek on Netflix with Debarati.
Brunch with friends.
Knowing that my girlfriend made it safely, and comfortably to our AirBnB.
Discovering the Mastodon social network app, the Fediverse network of social networks, the ActivityPub protocol.
What I'll miss from Montreal
Coffee with Debarati on the balcony at sunrise.
The sun in our apartment.
Cafés and restaurant.
Something artistic or cultural going on around the neighbourhood every week.
Fashion, sexual ambiguity.
Communauto.
Goals for December
Apply for TN status in New Mexico and join my girlfriend in time to enjoy our AirBnB and discover our surroundings during my vacation.
Be on vacation, be it Montreal or Santa Fe. Rest. Recover. Focus on myself and my relationships.
Get a Certified Kubernetes Administrator certification.
See friends and relatives I didn't get a chance to see recently.