January 2023 in review
My monthly series
Introduction
This is the third post in my Month in review series.
The theme for this month is: exploration.
Arrival in Santa Fe
My girlfriend got here one month ahead of me. She is also really proactive and efficient at making friends and creating community. I am very grateful for this and I find it amazing. I just got here one month ago, and we already went to see our new friends in Albuquerque, we had them at our house, and we hosted a big housewarming party with Indian cuisine and a movie night and a sleepover!
Settling in our apartment is also happening quickly. Most of the house is organized and feels "lived in". We put up our art on the walls and we bought plants. The office upstairs is the final room left to organize and beautify.
Photo gallery
Santa Fe in winter
Yes, it snows in Santa Fe!
Reading
Here are some of my favourite reads this month.
The P.A.R.A. Method
The P.A.R.A. Method, a universal system for organizing digital information.
I've been reading and experimenting about this method for the past year, but only on a superficial level until last month when I really went deeper in the topic.
This is a series of 8 blog posts. It's really influencing how I organize files on my computer and in my various applications, by applying a basic structure of Projects, Areas, Resources and Archives (in order of actionability).
I also started using a note-taking app synchronized between my laptop and my phone. I never used a note-taking app before. I just used files on my filesystem. The features and interface of a note-taking app makes working with large amounts of small bits of information much more fluid and dynamic than a traditional filesystem.
The note-taking app I use is Joplin, because it's open-source, cross-platform, and I can synchronize my notes between my laptop and my phone using Nextcloud.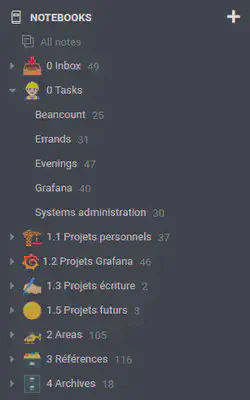 Just-in-time Project Management
Just-in-time Project Management, a digital-first framework for modern projects.
A series of 21 blog posts by the same author as the P.A.R.A. Method. It's an extension of the opportunistic approach to organization from the PARA.
I read about Agile and classical Project Management before, but this takes a new approach that is much more applicable in my daily work, and also in my personal life. Some of my favourite concepts from this series are:
The focus on economy and management of attention and "flow" state.
The ability to downscope or upscope to fit the available time.
Creating "intermediate packets" of work. This allows fast and iterative delivery of value, as well as "freezing" the state of a project to pick it back up later.
Divergence and convergence, the ability to know whether you are in the diverging or converging phase of a project, and how this will change your mindset and actions.
Working in a "productivity network", among my own network of projects, but also in the productivity network of my organization.
I've been experimenting using Joplin to
The empty brain
The empty brain — Your brain does not process information, retrieve knowledge or store memories. In short: your brain is not a computer
The brain-machine analogy is very common, but it doesn't apply to how our brain really works, and this article is a good reminder. Our brains don't process information, they recognize patterns. What drives our decisions is emotions and reward systems.
How to tell a raven from a crow
There are lots of crows here so I read how to tell a raven from a crow.
Santa Fe experiences
Bus fare is $1!
Train to Abq is $2!
My shadow is super long in the morning and the evening!
Skies are mostly clear, air is crisp and dry, ~20% humidity. I drink water and moisturize all the time.
It snows and it freezes!
There are lots of crows.
The night sky is super crisp, I see lots of stars, I'm in awe every time I look up at night.
Adapting to high altitude:

Santa Fe is at an elevation of 2194 m, or 7199 ft.
My belly was bloated all the time for a few weeks.
My energy is low and I often get dizzy when standing up.

Everything is an art gallery: cafés, restaurants, hallways, libraries, offices, people's houses. There are mini art exhibits everywhere!
Americanos don't lie. Typical coffee taste is burnt and bitter. I think it's a U.S. thing, not just in Santa Fe.
Grafana blog posts
This article I wrote for the Grafana Labs blog is the most popular blog post of 2022 😯 🤯
Grafana dashboards: A complete guide to all the different types you can build
This other one I wrote is in 18th position.
Pro tip: How to use semi-relative time ranges in Grafana
Month favorites
Day in Albuquerque

Took the Rail Runner
Met with friends for tacos
Went to the pole studio
Visited a friend's mini house he built himself!

Housewarming party

Indian lunch with Riya's coworkers, friends from Albuquerque, neighboors in Santa Fe.
Some friends stayed longer.
Dinner at Tune-Up
We used the condo community hot tub
We watched Magic Mike XXL
Two friends stayed for a sleepover
The next morning we had coffee at Mille French Café & Crêperie

Every Friday morning we have coffee with condo neighboors in the clubhouse.
Dinner and game night twice at Riya's supervisor's house
Tools for Play: intuitive movement workshops. Moving from listening, space-time dynamics, connection and contact. Intended for anybody with a movement practice. We participated twice this month.
Pole classes, the studio in Abq is nice, clean, and people are wonderful!
Sleepover in Albuquerque at friends house.
Dinner at neighboor's house.
Swing dance evening, there was a 1 hour lesson, and then we danced until 10pm. It happens every Monday so we will definitely go again.
Discovered cafés in Santa Fe:
Discovered cafés in Albuquerque:
Dinner at Paper Dosa, a pretty good South Indian restaurant.
Goals for next month
Finish organizing and beautifying the office room.
Get back into doing art.
Meet new people in Santa Fe and Albuquerque.
Grafana Labs: travelling to meet with my team in person.
Learn more cooking skills.