March 2023 in review
My monthly series
Introduction
This is the fifth post in my Month in review series.
The theme for this month is: hobbies.
This month, I re-connected with a multitude of hobbies: house cleaning, knife sharpening, organization, drawing, walking outside, storage furniture building, dancing, just to name a few. I also discovered and re-discovered new hobbies: hiking, astronomy and night sky watching, compass navigation. I created a more exhaustive list here: My hobbies.
Art
While taking walks in Santa Fe, I took pictures and created themed series that I want to keep as their own posts. Go have a look! I will continue to add pictures to them.
Hobbies
Here are a few projects I'm working on.
Car
I bought a used red 2013 Toyota Corolla.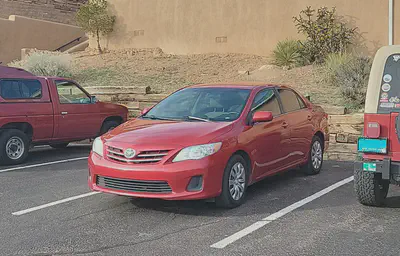 Now that we have expanded our mobility range, we have much easier access to:
More groceries stores and businesses,
Parks, hiking trails,
Albuquerque,
Riya can drive to work (once she gets her license).
Month activities
The social highlight of this month is the day we spent in Albuquerque with friends to celebrate Riya's birthday.
Zia symbols
An interesting element of the Santa Fe landscape is the Zia sun symbol. It's present everywhere: on cars, buildings, business logos, clothing, stickers.
Month favorites
Riya's birthday in Albuquerque.

We saw our dancing friends.
We went to Power Plant Café and bought some clothes and coffees.
We went to the Oddities and Curiosities Expo with friends and Riya's colleagues.
We went to Zu Hot Pot restaurant.
We did parkour outside the restaurant.
We visited an exotic wood shop.
We had a pole dance jam and a sleepover at our friend's house.
We had breakfast at the Waffleria the next morning.

Dinner and conversation with friends at the Rooftop Pizzeria on the Plaza.
I bought a used red Toyota Corolla. Now I can move around!
Dinner at La Boca with Riya, her supervisor and his girlfriend.
Watching the sunrise with Riya on a hill in our neighboorhood.
Discovering and re-discovering hobbies.
Walks in Santa Fe and in trails just outside the city.
We went to see the Dancing Earth rehearsal in which our friends are performing.
Goals for next month
Continue learning how to identify stars and constellation.
Spot Mercury setting in the West around April 10, shortly after sunset.
Catch the Lyrids meteors on April 22.
Go on hikes with Riya.