April 2023 in review
My monthly series
Introduction
This is the sixth post in my Month in review series.
The theme for this month is: navigation.
Walking and exploring has a profound grounding effect on me. I find that navigating using maps, a compass and binoculars is fun, intellectually engaging, and helps me build a mental map of the area. Hiking and night sky watching prompt me to reflect on my place relative to landmarks, the planet Earth, and celestial objects. I am building relationships with places, and a sense of belonging. This month, I continued expanding my footprint around and beyond Santa Fe, and I am starting to identify with New Mexico.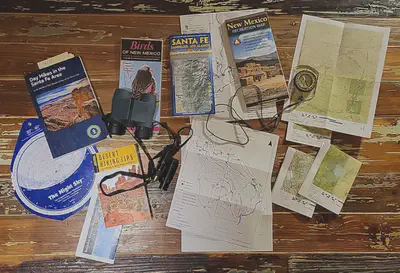 Hiking
I continued exploring hikes on the mountains around Santa Fe: Atalaya Mountain, Picacho Peak, Sun Mountain.
I visited Bandelier National Monument and saw the impressive cliff dwellings of the pueblo archaeological site. Native people carved their houses in compressed volcanic ash, called tuff, and built extensions in front of them using wood poles inserted in carved holes. They entered their houses with a ladder through an opening in the roof.
I'm working myself up to doing solo backpacking. It seems fun, challenging, meditative. I did lots of research on the internet and shopping at REI. Next month, I'll go hiking in Santa Fe National Forest and try a one night camping alone in the wilderness with a small backpack.
Art
I went to a live model drawing session. I'm using the sketchbook my sister gave me before I left for New Mexico.
Month activities
This month, I joined Riya in a few social activities with her colleagues and some new friends, and we took many walks in Santa Fe to enjoy the blossoming trees.
It's still close to the freezing point at night, but temperatures rise betwen 15 and 25°C and the Sun is hot in the afternoon. Friends tell us it is only going to get hotter in Summer. Yet, in the high desert, the temperature drops again very fast right after sunset.
Month favourites
Climbing mountains around Santa Fe.

Picacho peak
Atalaya mountain
Sun mountain

Visiting Bandelier National Monument.
Santa Fe blossoming trees.
Drawing session with nude model.
Researching how to do backpacking, shopping at REI multiple times.
Spotting birds with binoculars and a bird identification pocket guide.
Lunch at Dumpling Cafe with Riya. A+ authentic soup dumplings.
Tea with Riya at The Teahouse on Canyon Road.
Sushi dinner with Riya at Kohnami, deserts and cocktails at Dinner for Two.
Picnic in a park, and dinner at our house with Riya's new friends group.
Goals for next month
Try solo backpacking in Santa Fe National Forest.
Eat at Geronimo on Canyon Road.
Camping with friends along the Rio Grande river.
Group camping at White Sands National Park.
Weekend road trip to Denver, Colorado.