September 2023 in review
My monthly series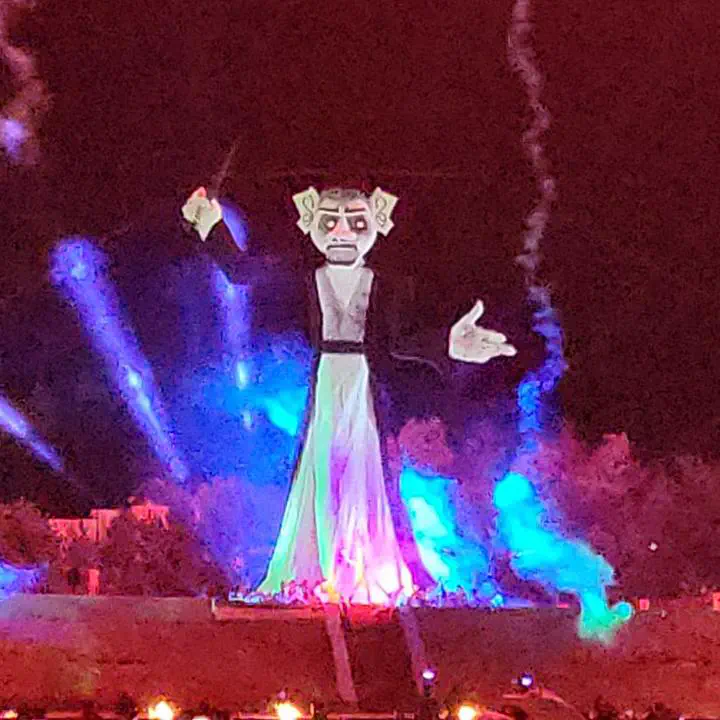 Introduction
This is the eleventh post in my Month in review series.
This month started very strong with the burning of Zozobra! And later, we went to the Santa Fe Renaissance Faire.
The theme of the month is: traditions.
Burning of Zozobra
The burning of Zozobra is an annual tradition in Santa Fe. It started 99 years ago in someone's backyard with a few neighboors. They made a wood and paper sculpture of a gloomy character named Zozobra. Then they would write their "glooms" on pieces of paper, and put them in the sculpture. The ceremony culminates in the burning of the effigy along with the glooms, providing a magical and cathartic release.
Today, the burning of Zozobra is a large-scale event attracting 60,000 people, with food and drinks concessions, light and dance shows, pyrotechnics, and big screen TVs.
You can submit your gloom on a website for 1$. They will print it and put it at the Zozobra's feet before lighting the fire. You can also pay more $s for specific locations: Zozobra's head, heart, hands…
https://en.wikipedia.org/wiki/Zozobra
Renaissance Faire
We went to the Santa Fe Renaissance Faire, mostly because Riya's dance company was performing. They did 8 performances of 45 minutes each in 2 days!
Riya also had a star part in one of the pieces.
Month photo album
Month favorites
Burning of Zozobra.
Opening day of the contemporary art building of the New Mexico Museum of Art.
Went to a psychic with Riya and a friends, got our palm readings done.
Went to see (and live) Zero, a high-intensity interactive play by the Exodus Ensemble.
Hosted a dinner with neighbours and our landladies who were in Santa Fe for a few days.
Many shopping trips to thrift stores and book stores!
We hosted a game night with friends.
We discovered two sushi restaurants.
We went to the Santa Fe Renaissance Faire.

Riya performed with her belly dance company. 8 performances in 2 days!

2 hikes along the Windsor trail, which follows Tesuque Creek. Since it's along a valley with a flowing stream of water, it's very lush and reminds us of the Boreal forests around Montreal.
Went to a friend's birthday pole party in a park in Albuquerque.
Aikido workshop.

A teacher from another state came and taught Aikido for 2 days.
Participants came from Albuquerque and Houston.
It was an amazing learning opportunity, to practice with people of different styles and body types.

Riya gave me early birthday presents:

A flower pot,
Books,
A Santa Fe literary review,
A journal,
Quality incenses.
Goals for next month
Trip to Toulouse, France.

For Riya's work.
I'll be on vacation.

Trip to NYC for work.
Go to Albuquerque Balloon Fiesta (similar to the St-Jean Festival des Montgolfières).
Watch the Solar Eclipse.