Food storage system
My organization systems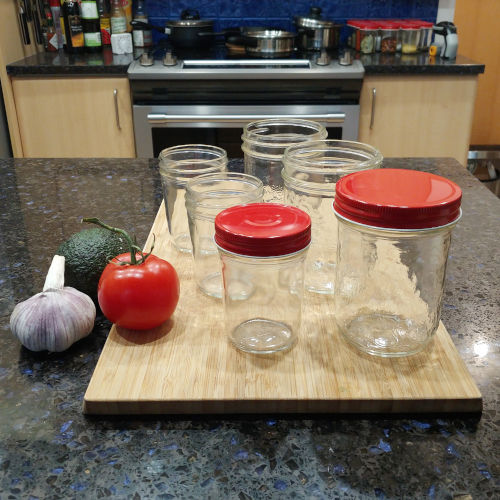 The problem with plastic containers
This is a drawer full of plastic containers and lids.
I think the intent of having different sizes of plastic containers is to make is easier to find the appropriate size of container to store food. In actuality, this system make it more difficult, because there is only one or few units of each size. It's difficult to organize and find lids that match the containers. There is no possible stacking or ordering. It's visually chaotic.
The plastic material has other disadvantages. It stains, scratches and cracks. It's difficult to wash and it dries more slowly than glass and metal.
The glass jars system
A much better system is to have many glass jars of standard size. I mean like, 70 jars.
I researched and tested various jars sizes and lids. Mason jars are great because they are standard and relatively affordable. It's easy to buy large quantities or to expand the system later. The standard 2-piece canning lids are annoying for daily use though, so I buy replacement lids on Amazon.
Form factors
I use two standard sizes. The shape of the mouth of the jar is important too, only straight sides will do. The classic 16 oz size Mason jar has a regular-mouth and a tapered neck, which gets in the way of pouring the food out. That's why it's worth trying to find large-mouth 16 oz jars, even if it means having to buy two different sizes of lids.
Small size
The small size (8 oz. or 1 cup regular mouth) is ideal for spices and small snacks.
Mason jar replacement lids, regular mouth, set of 16, red on Amazon.ca.
Large size
The larger size (16 oz. or 2 cups large mouth) is the general purpose size, for meal prep, snacks, picnics, drinks.
Mason jar replacement lids, large mouth, set of 12, red on Amazon.ca.